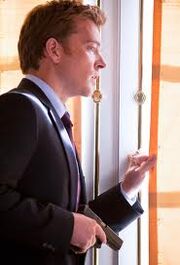 Frank McCormick was charged with child-slaughter after his baby daughter, Taylor, was confirmed to have died from shaken baby syndrome. Though he defended himself in court, the lead prosecutor pressed his wife Kerry into admitting that he may have been responsible. As he was being transported back to prison, the prison truck is attacked to free a fellow convict. Rather than join the crooks, Frank chose to go back home and confront Kerry. He then took her to the coroner office, to confront Dr. Roberta Fenton and have the autopsy files looked at to prove his innocence. But he suffered interference from SRU. As Ed Lane tried to talk him down, Frank admitted that when he got home from a business trip, he gave his daughter the normal bounce, but she kept crying. Sometime later, she was silent. Though Kerry and Fenton insisted that it could've been an accident, Frank couldn't accept it. But before he could commit suicide, Sam dropped a flash grenade through the vent, giving Ed an opening to disarm and arrest Frank. Frank was later proven innocent, as Dr. Valo, whom Frank insisted work with Fenton to doublecheck the autopsy for a second opinion, revealed that his daughter actually died of an ear infection, through use of a test that Fenton refrained from using.
Community content is available under
CC-BY-SA
unless otherwise noted.