Rafik Rousseau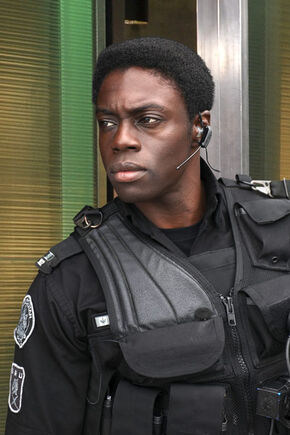 Constable Rafik Rousseau, SRU: Team One
| | |
| --- | --- |
| Full Name: | Rafik Rousseau |
| Nickname(s): | Raf |
| Gender: |   Male |
| Status: | Alive |
 
Occupation
Affiliation
Rank / Title
First Appearance:
A Day In The Life
Last Appearance:
Broken Peace

Rafik "Raf" Rousseau joins Team 1 in mid-season 4, following Wordy's departure. Unlike most of the rest of the team, he does not have a speciality. As a result, he often shadows different members of the team for cross-training in the field. Raf is an ambitious rookie who is both eager and quick to learn. However, he also wants to prove himself and can sometimes be reckless, such as when he makes entry without clearance to talk down a subject.
In A Day In The Life, Raf talks down an enraged mother who is holding a man at knifepoint for employing her daughter as a stripper and for dating her daughter even though she isn't 18 years old yet. Staying true to the rule that negotiators should not lie to subjects, Raf admits that his own father once did something similar for him. Raf was a talented musician when he was younger, and that caught the attention of one of his teachers. After Raf was sexually assaulted by a music teacher, his father attacked the teacher with a baseball bat and went to jail. Though Raf understands his father had acted out of love, he would have wanted him to have dealt with the teacher with words, not weapons. This helps calm the subject, and Raf successfully completes his first negotiation.
Raf leaves Team 1 in Broken Peace after the team is forced to kill a young woman who was about to shoot her abusive father. Feeling that he cannot uphold the kind of "peace" that would force him to take such unjust actions, he leaves the team to find some way for him to keep the peace in his own way.
Raf is a musician and plays the piano and sings as evident in A Day In The Life.
Trivia
Shot his first hostage taker in Grounded.
Cle Bennett, who portrays Raf, initially showed up in Exit Wounds as the gang leader Shane Thomas. It is unknown if this is an intentional move (Raf meets with drug dealers in the first scene of A Day In The Life) or an error overlooked by the directors and producers.
Raf is the only former member of Team 1 who does not make an appearance in the series finale.
Community content is available under
CC-BY-SA
unless otherwise noted.